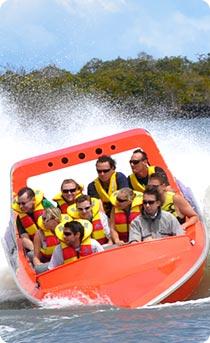 Jet Boat Rides Gold Coast
Would you like to be propelled through the water by a massive 7.4L V8 Chevy engine?

Do you watch those ads on TV and say that is me?

Try Gold Coast ONLY Obstacle Thrill Course! called Cardiac Arrest

Time required 50 minutes - $59 per person

Combine AWESOME 360 SPINS, FISHTAILS, HIGH SPEED DRIFTING and Beach Buzzing and you've got the most exhilarating Jet Boat Ride in Australia!

Check Jet Boat Rides Gold Coast for departure times and costs.